Like most high-traffic places, theme parks and water parks absolutely need to start implementing customer-first tech to thrive in today's new normal.
And your POS system is a great place to start.
Think of it this way, with the right POS, your entire guest experience can be drastically improved in one fell swoop. Guests transact multiple times, purchasing souvenirs, visiting restaurants or quick-service stands, buying tickets for different shows in the park, the list goes on. We know (from personal experience) that these transactional experiences can be the most stressful part of the visit for guests.
Let's dive into why your theme park or water park could seriously use an omnichannel POS solution.
Nobody wants to wait in long lines.
Especially for food and souvenirs, especially after already waiting in line for the attractions that they came for. Kiosks and mobile/online ordering are the no-brainer solution here. Imagine being able to turn those dead concourse spaces into self-serve POS solutions, and instantly reducing lines and overall friction. What could that do for your guest satisfaction and your employee experience? If this sounds too simple to be true, we have the data to prove that this one thing can make the world of a difference. The use of self-service kiosks has led to SpotOn's enterprise clients seeing a 21% higher average order size and 1.4 times more items in their cart at checkout.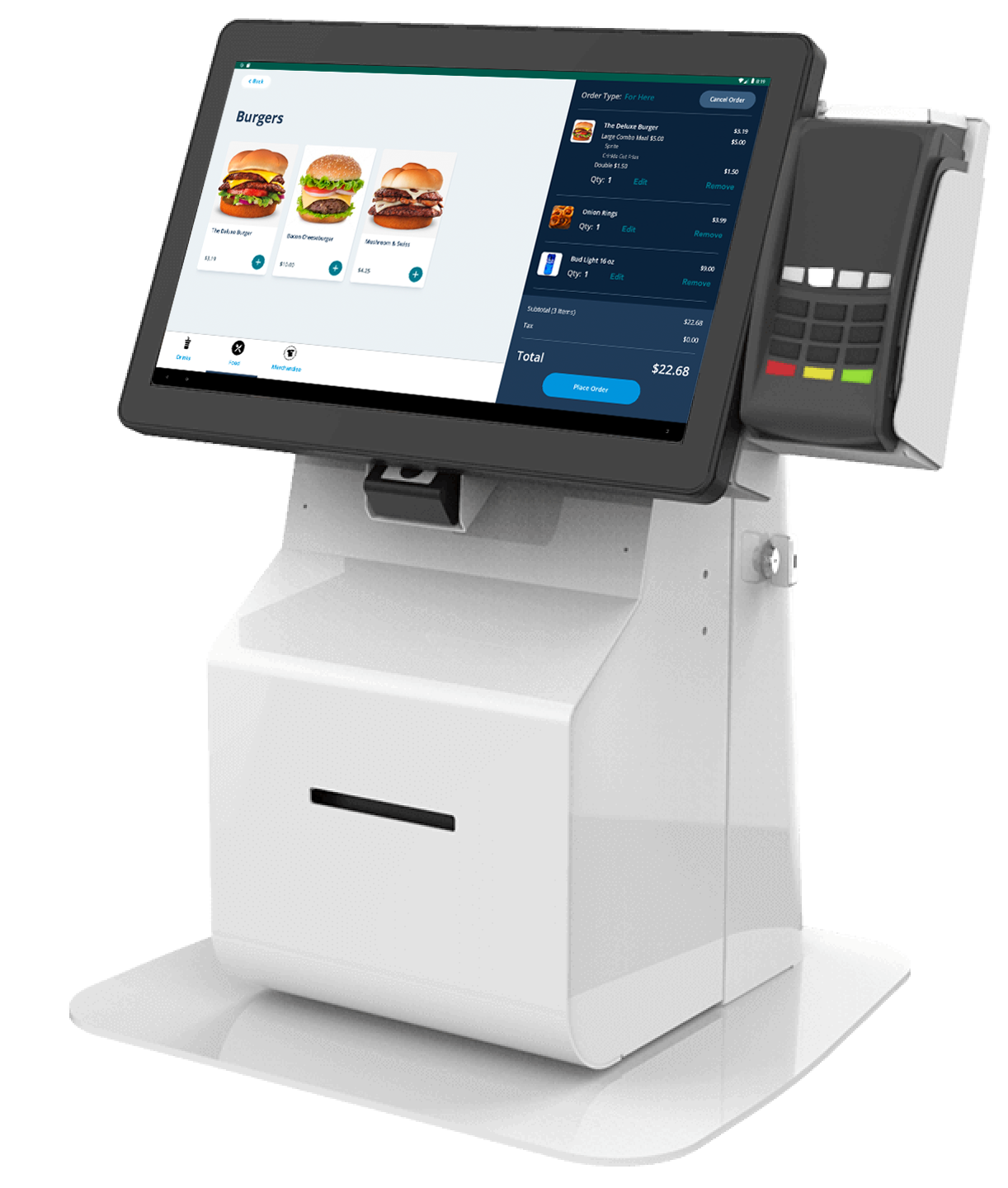 It isn't just self-service kiosks, but online and mobile ordering makes a massive difference, too. Picture your happy guests and their friends hopping off a ride—instead of having to wait in long lines, they can instantly plug into your easy-to-use web interface and order that cinnamon bun at the push of a button, and have it ready and waiting by the time that they get to the shop. Water parks benefit from mobile ordering, too. If guests are hanging out in the cabanas, they wouldn't have to wait for a (likely very busy) server to come take their order, when they should be relaxing. They can order and have in-seat delivery with text notifications and order confirmations.
Tap and go find your favorite ride.
Everyone loves a BYOD (bring your own device) instead of having to shuffle in over-packed bags for their wallet or forgetting their cash in the lockers. In the digital age, most people carry their cell phones wherever they go, poised at the ready for their next viral TikTok. Scan and Go allows guests to scan and pay for their items right from their favorite devices by using the camera to scan the barcodes. How much more convenient would an offering like this be for your guests?
So far, we've really gone in on the guest experience. We need to chat about your staff and what solutions like these could do for them. The labor shortage makes headlines on a daily basis, and nowhere is this felt more than in the service industries. Having self-service technology lessens the burden on your current staff and easily makes up for staff shortages elsewhere. It also lessens Covid fears on both your employees and the guests they work so hard to serve.
One wristband, so many possibilities.
Not to toot our own horn or anything, but SpotOn's third-party integrations are kind of awesome. Cashless RFID is an instant win because in addition to helping prevent the spread of COVID-19, it's an all-in-one solution for entry, food, fast passes, games, rides, and more. Cashless payments are much easier to embrace because the only thing your guest needs to have on hand is the wristband. No more forgetting wallets in lockers, no more bag shuffling, no more holding up the line.
As we mentioned earlier, self-service and cashless options automatically increase revenue, especially when multiple wristbands can be linked to one family account. Guests can just swipe and go without having to search for the designated bag-holder…who may or may not be waiting in line for a hot dog halfway across the park.
We have the friends to prove it.
Theme parks and waterparks can completely revolutionize the guest and staff experience with one simple change. Our easy integration and SpotOn customer service team (see what we did there?) take the heavy lifting off of your shoulders to give you a little peace of mind.
Do yourself a favor and join the dozens of theme parks and waterparks that have already made the leap into an omnichannel future. You'll be in great company.
Contact us today.